Address: Chuangke Town, Zhongguancun, Hot Spring Town, Haidian District
Copyright © Zhongguancun Chuangke Town (Beijing) Technology Co., Ltd. 京ICP备16045011号-2
Interpretation of History by Substitution Method--Biographies of Sun Tzu and Wu Qilie (4)
本期还将继续为大家解惑,通过对战神吴起的解读,蔡老师为您还原历史真相!
Bold suspicion and prudent verification
Interpretation of History with Impression of Substitution: Biographies of Sun Tzu Wu Qi (4)
In the last issue, we used the method of logical deduction to interpret Sun Bin, another grandson in The Biography of Sun Tzu Wu Qi. This issue will continue to solve your puzzles. Through the interpretation of Wu Qi, the God of war, Teacher Cai will restore the truth of history for you. Please look forward to a wonderful explanation.
Activity time:
Tuesday, August 14, 2018, 19:30-22:00
Location of the event:
Conference Room 2, Zhongchuang Space, Chuangke Town, Zhongguancun
Theme: 1. Biographies of Sun Tzu Wu Qi (4)
2. Records of Wu Qi, God of War
Activity Form: Reading will guide reading enthusiasts to think deeply with the method of historical substitution and constantly verify.
Speaker:
Cai Li Xin
Coach of Training Center for Professional Managers of Beijing Tsinghua University
Dean of Education, Chuangke College, Zhongguancun
Participants:
If you like reading, like history, can find doubts in reading and like to verify, you are welcome to participate in our reading club activities, we will discuss and share together.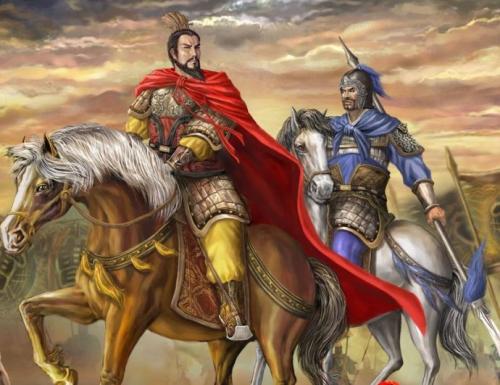 Wu Qi pass
The Biographies of Sun Tzu Wu Qi and the Biographies of Confucianism Lin recorded that Wu Qi "learned from Zeng Tzu" in Lu and worshiped Xia Zi as a teacher in Wei Dynasty. Among the disciples of Confucius'reincarnation, there appeared such a great military strategist as Wusheng's grandson, which played an important role in explaining and referencing the attitude and accomplishment of Confucius and early Confucian scholars towards military affairs. King Zhou Weilie attacked Lu in 14th year (412 years ago). King of Lu wanted to use Wu Qi as general, but because Wu Qi's wife was a native of Qi, he was doubtful. Wu Qi killed his wife resolutely because he was eager to be a general to achieve fame and honor. He said he did not like Qi State. Historically, he said that he wanted to kill his wife and seek generals. Lu Jun finally appointed him general to lead the army in battle with Qi State. Wu Qizhi's army is strict with himself and lenient with others, sharing weal and woe with soldiers, so all soldiers can follow their fate. Wu Qi led the Lu Army to the front line and did not immediately open a war with the Qi Army. He expressed his willingness to negotiate with the Qi Army. He first "showed weakness" to the other side and garrisoned the Chinese Army with the old and weak soldiers, thus creating a false impression of "weakness" and "timidity" to the other side, so as to paralyze the general, arrogant and unrestrained, and then suddenly launched a fierce attack on the Qi Army with a strong army. The Qi army rushed to the battle and collapsed at the first touch, with more than half of the casualties. The Lu army won a great victory.

Wu Qi's gains aroused criticism from the officials of the State of Lu. Some people in the state of Lu injured Wuqi in front of the king of Lu and said, "Wuqi is a cruel and ruthless man. When he was a child, he was well-endowed. He wanted to be an official. His lobbying activities were unsuccessful and his family went bankrupt. His neighbours laughed at him, and Wu killed more than thirty people who had slandered him. Escape from defending the country and go east. When he said goodbye to his mother, he bit his arm and swore, "Don't be a prime minister, don't be a guardian anymore." After that, he studied under Zeng Shenmen. Shortly afterwards, his mother died and he did not go home. Zeng Shen despised his personality and severed his relationship. Only then did Wu Qi go to various countries to study military tactics and serve Lu Jun. Lu Jun had doubts about him, so he killed his wife in an attempt to become a general. Luguo is a small country, once it has the reputation of victory, it will cause all countries to plot for Luguo. Moreover, the state of Lu and Wei are brotherly countries. When Lu Jun used Wuqi, he abandoned the state of Wei." Lu Jun therefore doubted and dismissed Wu Qi.  
After Wu Qi left the State of Lu, I heard that Wei Wenhou was very wise and wanted to lobby him on his own merits. Wenhou asked Li Kui, the minister, and said, "How is Wu Qiren?" Li Qi said, "Wu Qi is greedy for fame and lust, but he can't surpass him with Bingsi Ma Duan." In this way, Wei Wenhou appointed him general, led the army to attack the Qin State and conquer five cities.

Wei Wenhou appointed Wu Qi as the guard of Xihe (Heyang Generation in Shaanxi Province) to resist Qin and Korea because he was good at using troops, honest and fair, and could be supported by soldiers. King Weilie of Zhou seized Linjin (now Dalidong, Shaanxi Province) and Yuanli (now south of Chengcheng City) in the western part of Qinhe River in 409 B.C. in the seventeenth year, and renovated these two cities. The following year, from the Qin Dynasty to Zheng (Jinhua County), Zhuluoyin (now Dali Nan) and Heyang (now southeast of Heyang) occupied the western part of the Qin River (now between the Yellow River and Beiluo Henan section) (see the battle of Wei against the western part of the Qin River), and Xihe County was set up to be guarded by Xihe County. During this period, he "fought 76 wars with the princes and won 64 battles", and "opened up all sides of the earth and opened up thousands of miles". Especially in the Yin-Jin War of King Zhou'an in the 13th year (389 BC), Wu Qi defeated the Qin army by 50,000 Wei troops, becoming a famous battle in the history of China's war with fewer victories, and also making the State of Wei a powerful vassal state in the early Warring States Period.
活动已结束